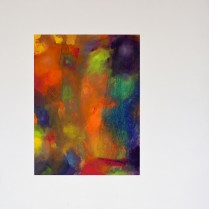 Resonance (Oil on Japan-Paper mounted on white plywood square, 48.3cm x 48.3cm, Dirk Marwig 2011)
This is a gift to Nadim Amar. This little painting was in my "unfinished work" box for 3 years until I mounted it on a square (painted white) piece of plywood (but not in the centre) just like you see it in the photo. Now, finally it is finished!
Because the painting itself is not centred the eyes move back and forth(right to left ) and the colours vibrate in all directions giving that feeling of "Resonance".