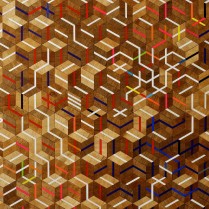 REMOVED (High pigment lacquer on plywood mounted on wood panel, 91.5cm x 91.5cm, Dirk Marwig 2014)
"Removed" is the result of the cut up "Flop Object". I cut all the salvaged wood into perfect 'Golden Rhombi', then assorted all the pieces on a square wood panel during a state of complete 'non-existence' until I felt that nothing more was needed. The next day in the morning I added a few more coloured lines until that 'gut feeling' appeared where you know that "it's done". During the creation process I felt completely "Removed" from this world- I was floating somewhere, in a good place.
This painting can be seen from all sides. Each time you turn it , the painting gives you a different sensation. It can even be put up on the diagonal!