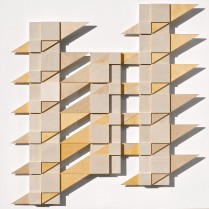 Balkonien (Plywood construction-wall object-, 85.3cm x 80.2cm x 4,5cm, Dirk Marwig 2014)
"Balkonien" the resort on the balcony('Balkon' in german). If you can't afford to go anywhere on vacation, you can always go to Balkonien!
-I used 32 'Golden Rectangles', dissected them into their major components (2 triangles or 3 proportionate squares for one rectangle) then reassembled them to construct this wall object.
-If you look closely the "Golden Rectangle" appears everywhere: for example: negative space + positive space = a Golden rectangle or just look at the positive spaces: large and small 'Golden Rectangles' appear everywhere, even overlapping each other. It's like 'filling in' the missing line(s) to construct the perfect rectangle with your mind.