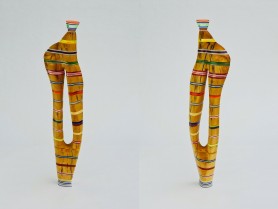 The Dilettante Standing on a Shiny Floor (Pacific yellow cedar and plexiglass, 95.5cm x 21cm x 10.5cm, Dirk Marwig 2017)
Dilettante: A person who cultivates an area of interest, such as the arts, without real commitment or knowledge. In this case: The groomed, posing and 'vogueing' hipster standing on a shiny floor at every art gallery opening. He or she is only there to be seen, for the free drinks/cocktails/canapés and to hobnob with the "in"crowd; never to buy a piece, of course. Makes me laugh.
The photo shows both sides of the object/construction.