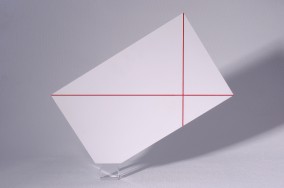 Hommage to Defiance-side view- (Lacquered plywood construction wit plexi-glass base, 44cm x 47.3cm x 7.5cm, Dirk Marwig 2014)
This object could be made a lot larger. Actually, it could be a cool building(Architecture)! -I chose this size because I had the plywood for it available in my studio. The object balances perfectly on top of the the little plexi-glass cube, giving the illusion of defying gravity. But how does it balance in the first place with such unequal weight distribution?
'Hommage to Defiance" is an hommage to basically all kinds of 'Defiance'. Don't let "RULES" or "LAWS" get in your way or stop you from expressing what you have to say to the world.